BeX® Retail – intelligent butikksystem og kasseprogram for enkel og sikker håndtering
BeX® Retail er et moderne og nyskapende butikksystem for fysisk og digitalt salg, der butikkasser, e-handel og selvskanning (Shop & Go) kommer sammen. BeX® Retail forenkler og effektiviserer kjøps- og returprosessen for både kunder og bedrifter. Med et ferdig og nettskybasert standardprodukt er igangsettingen enkel, rask, sikker og kostnadseffektiv.
BeX® Retail består av:
BeX® MPOS, en webbasert kasseløsning for rask og mobil håndtering.
BeX® Shop on the Go, en selvbetjeningsmodul for kundens mobil som håndterer kjøp både i fysisk (Shop & Go) og digital butikk.
BeX® Return service, en returtjeneste der kunden selv kan håndtere egne returer.
BeX® Campaign service. Her kan ulike rabattkampanjer legges opp og utnyttes i alle kanaler. For returer beregnes rabattkampanjen automatisk på nytt til ordrens gjenstående verdi
BeX® Value voucher service. Håndterer gavekort, tilgodelapper, avbetalinger og bonuser i sanntid mot all fysiske og digitale kanaler.
BeX® Retail MPOS er en komplett webbasert butikkasse som kan brukes i et ubegrenset antall butikker og kobles til BeX® Online. Takket være moderne internetteknologi kan alle butikkdata håndteres elektronisk i butikkdatasystemet. Salg kan utføres fra flere lagre og butikker samtidig, og kassen kan brukes stasjonært, som en tradisjonell butikkasse, eller mobilt til f.eks. personlig salg eller midlertidige handelssteder. Kassen samarbeider sømløst med BeX® Shop on the Go, der kunden selv skanner, bestiller og betaler for varene sine.
BeX® MPOS:
Sikret mot tap av data og ransomware
Enkelt å installere og flytte mellom ulike enheter gjennom sikker Internett-innlogging.
Intuitivt e-handelslignende utseende, med produktbilder og handlekurv
Automatisk presentasjon av utestående verdibevis som f.eks. bonus, avbetalinger, tilgodelapper ved kasse/betaling.
Håndterer kjøp for faktureringskunder
Viser hvor produktene er, både i butikkens hyller og i andre lagre og butikker.
Håndterer direktekjøp og ordre på samme kvittering
Håndterer digitale kvitteringer, gavekort, tilgodelapper og kvitteringer for depositum automatisk.
Gjør alle salg fra kassen tilgjengelig rett fra forretningssystemet, BeX Online.
Sertifisert i samsvar med svensk og norsk skattelov.
BeX® Shop on the Go er fremtidens grenseløse handel med mobiltelefon, der fysisk og digital handel smelter sammen. Kundene velger selv om de vil handle i butikken (Shop & Go) eller utenfor (e-handel). Varene kan skannes med kameraet eller velges fra produktlisten. Betaling kan gjennomføres med kundens vanlige betalingsmiddel. Alle funksjoner og fordeler i BeX® MPOS finnes også i BeX® Shop on the Go. Det gjør bl.a. at kunden kan se hvor varene er, både i butikken eller på andre lagre, og kjøpe dem direkte eller legge inn ordre for henting eller hjemlevering.
BeX® Return service er en returtjeneste som kobles til kundens e-handlesbutikk eller til BeX® Shop on the Go. Kunden kan selv legge inn returer, returårsaker, bytteordre og forespørsler om refusjon. Kunden kan rates ut fra tidligere kjøp og returer, returen kan godkjennes manuelt eller automatisk, og kunden kan informeres på e-post eller i returservicetjenesten.
BeX® Campaign service er et rabattsystem der det kan settes opp rabatter og kampanjer på ulike varer, varegrupper, kundegrupper, varemerker og tidsperioder. Kampanjene kan utnyttes i alle kanaler og deretter følges opp mht. salg og lønnsomhet. For returer regnes kampanjen automatisk tilbake, slik at det gis rabatt på det gjenværende beløpet i følge kampanjesystemet. Det kan for eksempel være «Ta 3 betal for 2» som da regner tilbake til hvilken rabatt de 2 siste kjøpene eventuelt hadde gitt i rabatt og oppretter en tilbakebetaling eller tilgodelapp på resten.
BeX® value voucher service er en verdibeviskontra som holder styr på utestående beløp på ulike typer verdibevis, reserverer beløp og avregner når kjøp er utført. Gavekort kan selges i alle kanaler. Tilgodelapper og depositum kan opprettes og deretter brukes som betalingsmiddel. Bonuser kan opprettes med ulike bonusnivåer og bonuskampanjer og håndteres med bonussjekker eller løpende tilgodelapper. Alle verdibevis kan brukes helt eller delvis i alle kanaler. Verdibevis opprettes i BeX Online for bokføring mot ulike balansekonti og eventuelle MVA-håndtering.
Oppdag fordelene med en grenseløs, komplett butikkløsning. kontakt oss her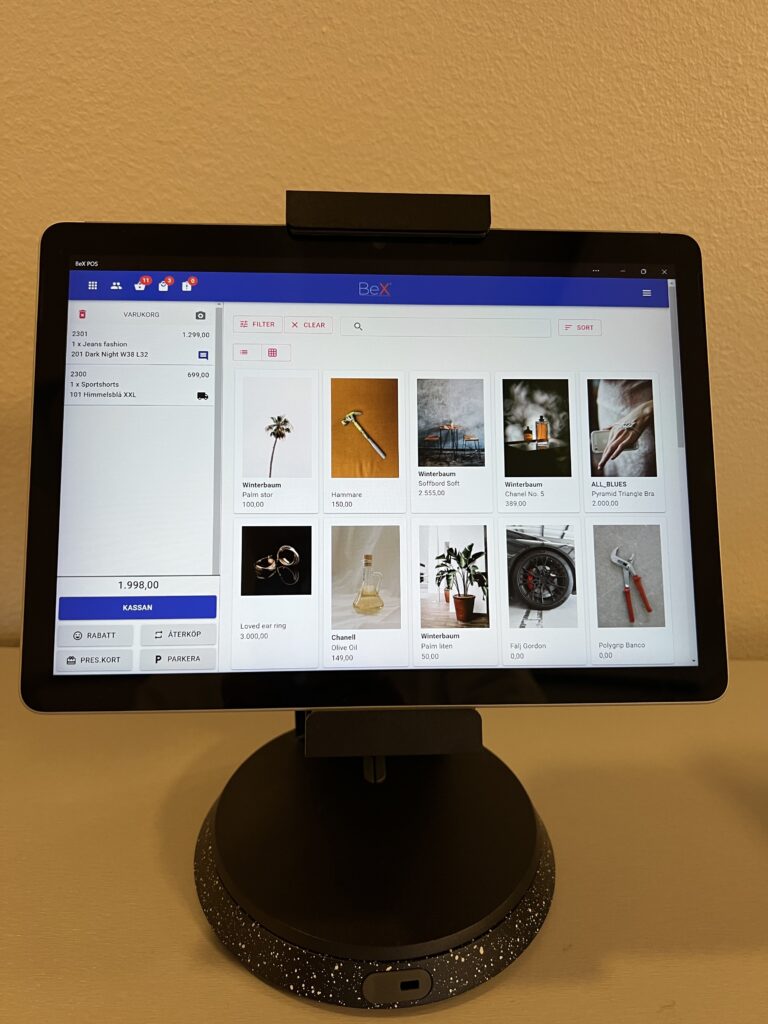 Høy kapasitet og nyttige funksjoner
Moderne og brukervennlig med e-handelslignende håndtering.
Enkel registrering og håndtering av kundeopplysninger rett i kassen.
Nettbasert oversikt over alle lagre med bestillingsfunksjon.
Kvitteringssøk med strekkode og oppretting av returer med returårsaker.
Innløsning av bonus, gavekort og tilgodelapper i alle butikker (inkl. e-handel) med online-kontroll og automatisk håndtering av gjeld og avregning mellom bedrifter.
Håndtering av kampanjer og rabattkoder.
Reservasjoner og ordre/kundebestillinger fra alle lager med mulighet for depositum.
Betaling med flere valutaer og betalingsmåter, f.eks. Kort, Klarna, Swish, Vips, Alipay, kontant, gavekort, bonuser m.m
Direktekjøp og ordre på samme kvittering
Digitale kvitteringer, gavekort, depositum og tilgodelapper.
Håndtering og kontering av manuelle kontantuttak.
Dagsoppgjør med avstemming og kontering av differanser. X- og Z-rapporter kan skrives ut som PDF.
våra paketlösningar