BeX® Retail – an intelligent store system and POS system for an easy and secure management
BeX® Retail  is a modern and innovative store system for physical and digital sales, joining together store checkouts, e-commerce and self-scanning (Shop & Go). BeX® Retail simplifies and rationalizes the buying and returning process for both customer and company. With a ready-made cloud-based standard product, implementation is simple, fast, secure and cost-effective.
BeX® Retail consists of:
BeX® MPOS, a web-based cash register solution for fixed and mobile handling.
BeX® Shop on the Go, a self-service module customer mobiles that handles purchases both physically (Shop & Go) and in a digital store.
BeX® Distributed Headless e-com, a complete back-end e-commerce platform to build flexible front-end solutions for.
BeX® Return Portal, a return service where the customer can manage their own returns and exchange orders.
BeX® Campaign service. Here, various discount campaigns can be posted  and used in all channels. For returns, the discount campaign is automatically recalculated to the remaining balance of the order
BeX® Value voucher service. Handles gift cards, credit receipts, deposits and bonuses in real time against all physical and digital channels.
BeX® MPOS is a complete web-based cash register that can be used in an unlimited number of stores and is connected to BeX® Online. Thanks to modern web technology, all store data can be handled online in the store data system. Sales can be made from multiple warehouses and stores simultaneously, and the cash register can be used stationarily as a traditional store cash register or mobile e.g. personal sales or at a temporary trading place. The cash register works seamlessly with BeX® Shop on the Go, where the customer scans, orders and pays for their goods.
BeX® MPOS:
Secured against data loss and ransomware
Easy to install and move between different devices using secure web login.
Intuitive e-commerce look with product images and shopping cart
Automatically shows outstanding vouchers such as bonuses, deposits, credit receipts at check-out / payment.
Manages purchases for invoiced customers
Shows the location of the products, both in store shelves and in other warehouses or stores.
Manages direct purchases and orders on one receipt
Manages digital receipts, gift cards, credit receipts and deposit receipts automatically.
Makes all cash sales directly available from the BeX Online business system
Certified in accordance with Swedish and Norwegian tax legislation
BeX® Shop on the Go is the limitless mobile phone shopping of the future, the merging of physical and digital trade. The customer decided whether to shop in-store (Shop & Go) or externally (e-commerce). Items can be scanned using the camera or selected from the product list. Payment can be made through the customer's normal means of payment. All functionality and benefits of BeX® MPOS are also included in BeX® Shop on the Go. For example, the customer can see where the goods are located, both in the store and in other warehouses, and buy them directly or put in orders for pickup or home delivery,
BeX® Distributed Headless e-com is a complete e-commerce back end for e-retailers who want complete flexibility in their front end. Build a front end that fits the business in a CMS/frontend tool and connect to the Bex headless api. BeX Headless e-com is based on MS Azure Cosmos and Cashe which, together with MS Front end and a containerless API, provides fast and secure access to your e-commerce. The solution can be deployed to data center clusters around the world for the fastest user experience.
BeX® Return Portal is linked to the customer's e-commerce store or BeX® Shop on the Go. The customer can register returns, reasons for return, exchange orders and refund requests. The customer can be rated on the basis of previous purchases and returns, and returns can be approved manually or automatically and the customer informed via email and the return service.
BeX® Campaign service is a discount system for setting up discounts and promotions on various goods, product groups, customer groups, brands and time periods. These campaigns can be used across all channels and then followed up with regard to sales and profitability. For returns, the campaign is automatically recalculated to show the correct discount on the remaining portion according to the campaign system. An example would be "Buy 3 for 2" which then counts back to what discount the two remaining purchases would give and creates a refund or exchange order credit for the balance.
BeX® Voucher service is a voucher ledger that keeps track of the outstanding amounts on many types of vouchers, reserves amounts and settles once a purchase is made. Gift cards can be sold in all channels. Credit receipts and deposits can be created and used as payment. Bonuses can be created with different bonus levels and bonus campaigns and managed with bonus checks or ongoing bonus credits. All vouchers can be used in all channels, in part or in whole. Value certificates are set up in BeX Online for bookkeeping against various balance sheet accounts and any VAT management.
Discover the benefits of a complete and limitless store solution. Contact us here</p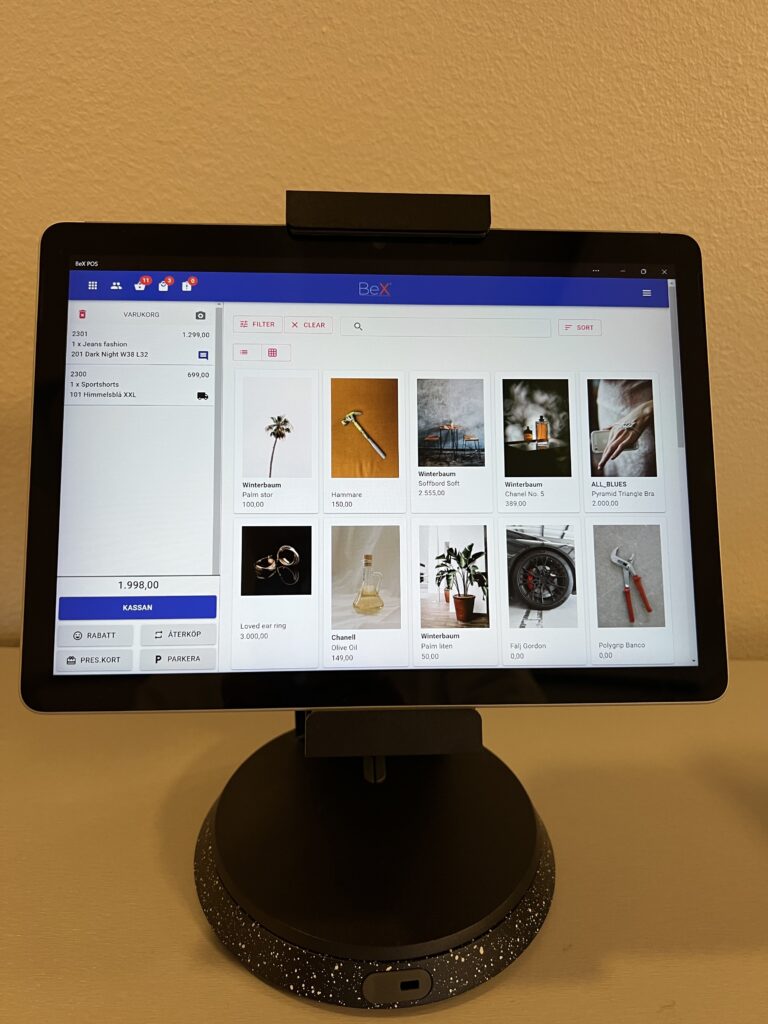 Web/App-based cash register program
Modern and user friendly with e-commerce-like processing.
Easy registration and processing of customer information directly at checkout.
Online overview of all inventory with ordering function
Receipt search with bar code and creation of returns with reasons for return.
Redemption of bonuses, gift cards and credit receipts in all stores (including e-commerce) with online control and automatic processing of debts and settlements between companies.
Management of promotions and discount codes.
Reservations and orders/customer orders from all warehouses with a deposit option.
Payment with several currencies and payment methods, including Cards, Klarna, Swish, Vips, Alipay, cash, gift cards, bonuses, etc.
Direct sales and orders for the same receipt.
Digital receipts, gift cards, deposits and credit receipts.
Handling and accounting of manual cash withdrawals.
End of day reconciliation and posting of differences. X and Z reports can be printed as PDF and receipt printer
Our package solutions