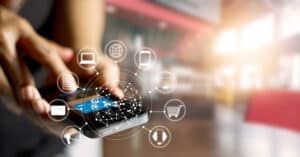 Perfect It is a partner and reseller of Adyen payment solutions.
Through the agreement with Adyen, BeX can offer all Adyen payment services to our customers for both digital and physical sales. Through this, we can offer our customers a simpler and more complete solution for the entire sales and payment flow. We can also implement payment solutions in several parts of BeX, such as self-service, manual and automatic mailing of payment links, additional payment of exchange orders in the BeX return portal, etc.
Our customers receive:
• Simpler and faster set-up of payment methods.
• Fast delivery of payment terminals.
• Support and help with payment processing
• A true omnichannel experience.
Prices for Adyen payment solutions can be found here:  Adyen price list. BeX can always give a discount to BeX customers
Adyen (AMS: ADYEN) is the financial technology platform used by many of the world's leading companies. By offering end-to-end payments, data-driven insights and financial products in a single, globally viable solution, Adyen helps companies reach their goals faster. Adyen has offices in several different countries and works with companies such as Facebook, Uber, H&M, Åhléns and Elgiganten.